Hong Kong sees weak debut for first offshore yuan IPO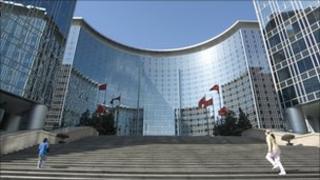 The world's first Chinese-currency shares to trade on a stock exchange outside mainland China have fallen in their debut in Hong Kong.
Shares in Hui Xian Real Estate Investment Trust (REIT) fell sharply to 4.83 yuan from its listing price of 5.24 yuan in early trade.
Hui Xian is controlled by Hong Kong tycoon Li Ka-shing, Asia's richest man
The listing is an important step in China's push to make the yuan a more global currency.
The investment trust's main asset is Oriental Plaza, a massive retail, office and residential complex in Beijing.
Investors gave a tepid response to the initial public offering (IPO) and it was priced at the lowest end of a 5.24-5.58 yuan range, raising 10.48bn yuan ($1.6bn,£969m).
Some investors fear that there is not enough yuan liquidity in Hong Kong to buy and sell yuan-denominated shares freely.
Yuan bank deposits in Hong Kong now total $62bn but this is just a fraction compared with Hong Kong dollars, which are freely traded.
And China still tightly limits the flow of money in and out of the country.
'Not attractive'
But analysts also said that Hui Xian offered a lower rate of return than similar products denominated in Hong Kong dollars.
"The yield was not that attractive," said Peter Lai, a director at DBS Vickers Securities.
"But there will be more yuan IPOs. This was only the first step," he said.
China has been broadening the use of its currency in a number of ways, as it hopes to challenge the dollar's dominance in financial markets.
Banks in Hong Kong have been permitted to hold renminbi deposits since 2004.
In 2009, China began allowing its currency to be used by companies to settle cross-border trade.
And last year multinational companies such as McDonald's and Caterpillar were permitted to issue yuan-denominated bonds in Hong Kong.