US consumer spending boosted by rise in personal income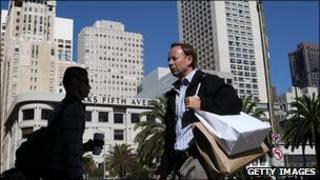 US consumer spending increased by 0.6% in March from February, rising for the ninth straight month, the Department of Commerce said.
This compares with an upwardly revised 0.9% advance in February. It was helped by an increase in personal incomes.
A steady, if unspectacular, fall in the number of people out of work and a 2% cut in social security taxes have helped to buoy consumers.
Adjusted for inflation, spending rose 0.2% in March and 0.5% in February.
However, analysts believe the rising cost of food and higher energy prices are affecting the consumer spending data.
"What we are seeing is that the nominal spending is rising, but the concern is that a large share of income is going to meet higher prices. In real terms, that means consumers have less money to use for spending," said Michelle Meyer, an economist at Bank of America Merrill Lynch
"I think this trend will continue, and we have not seen the peak in gasoline. This sets the stage for weaker consumption in the second quarter".
Consumer spending is a crucial part of the US economy and accounts for about 70% of economic activity.