Saab 'to resume car production after loan deal'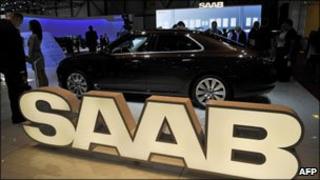 Swedish carmaker Saab plans to resume production within a week after its parent company Spyker Cars secured a 30m euro ($45m; £27m) loan.
The short-term funding has come from the investment fund Gemini.
Work at Saab's Trollhattan plant has been suspended since 6 April after suppliers refused to deliver parts, citing lack of payment.
Saab said it would now be able to restore confidence, but added it still needs to secure longer-term funding.
In addition to the six-month loan from Gemini, Spyker is seeking to borrow a further 29.1m euros from the European Investment Bank (EIB).
The EIB gave Spyker a 400m euro loan in 2010 to help fund its purchase of Saab from General Motors of the US.
Victor Muller, chief executive of Spyker and chairman of Saab, said in a statement on Monday: "I would like to apologise to our dedicated employees, suppliers, dealers and customers for the disruptions of the past weeks.
"We will do everything in our power to restore the confidence in our company as soon as practically possible."
Spyker had been in separate funding talks with Russian businessman Vladimir Antonov, and a number of Chinese car manufacturers.