US manufacturing output expands more than expected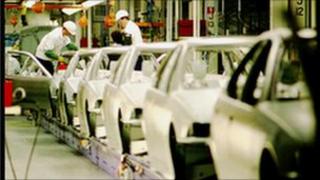 US manufacturing output grew last month, boosted by a weak dollar that made American goods cheaper overseas.
The sector expanded to a higher-than-expected level of 60.4 in April, down from 61.2 the previous month, said the Institute for Supply Management (ISM).
Any value above 50 indicates growth in the manufacturing sector.
Factory output remains strong despite high oil prices, a sign that the economy could be recovering from recession.
"The economy is not falling apart, despite the spike in oil prices," said Joel Naroff, an economic advisor in the US.
"Firms are hiring, adding to inventories, seeing demand rise and exporting. Those are not signs of malaise."
'Moderate pace'
Even though manufacturing activity expanded at a slower pace in April, it was the 21st straight month of growth, according to the ISM.
"In April, there was no meaningful slowdown in what has become the most important sector in the economy," said Dan Greenhaus, economic strategist at Miller Tabak.
Last week, the Federal Reserve said the US economy was clawing back from its deep recession at a 'moderate pace'.
The US central bank said on Monday that its latest survey of senior loan officers indicated that banks had made it easier to get loans in the first three months of the year.
"Some banks that had eased standards and terms...pointed to a more favourable or less uncertain economic outlook," said the Federal Reserve.