India raises interest rates again to tackle inflation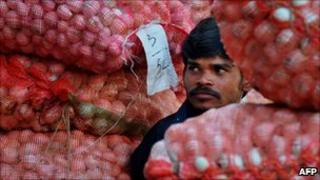 India's central bank has raised its key interest rate for the ninth time in 15 months in an attempt to curb inflation.
The Reserve Bank of India raised the rate at which it lends to commercial banks to 7.25% from 6.75%, a bigger increase than had been expected.
Despite a series of rate rises, March inflation hit 8.9% as Asia's third-largest economy continued its growth.
High oil, food and other commodity prices have frustrated the central bank's attempts to curb inflation.
"High inflation is inimical to sustained growth as it harms investment by creating uncertainty," the Reserve Bank said in a statement. "Current elevated rates of inflation pose significant risks to future growth."
The bank said it expected economic growth to slow to around 8% in the current fiscal year, down from 8.6% in the previous year.
This should help to ease inflation, but the bank said that it still expected the rate to average 6% this year.