Embraer profits surge despite stronger real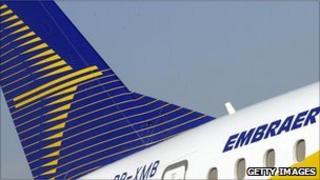 One of the world's largest aircraft manufacturers, Embraer, has seen a huge rise in first-quarter profits despite the impact of a stronger currency.
The Brazilian company generated net profits of $105.1m (£63.5m) in the first three months of 2011, up from $24.1m a year ago.
It said its income tax bill was slashed from $50m to $2.6m, mainly because of the strong Brazilian real.
During the period, the firm delivered 28 jets, down from 40 a year earlier.
In early trading, shares in the company rose nearly 5% on the New York Stock Exchange.
Although the appreciation of the real made a healthy difference to Embraer's tax bill, the firm also feels the strain when the currency rises, because 90% of its income is linked to the dollar.
Last Updated at 16 Feb 2018, 20:58 GMT
*Chart shows local time
| price | change | % |
| --- | --- | --- |
| 27.25 | 0.00 | 0.00 |
Orders backlog
Embraer designs, develops, manufactures and sells commercial and executive aircraft as well as planes for the defence industry.
It vies with Canada's Bombardier for third place among planemakers, behind Boeing and Airbus, who are engaged in a similar struggle for first and second place.
At the end of the first quarter, Embraer's firm order backlog totalled $16bn, an increase of $400m on the end of 2010.
During the three-month period, Embraer said it had received 60 purchase intentions for its new KC-390 aircraft.
However, the first prototype is not expected to be available until the beginning of 2013.