UK retail sales 'sluggish' despite slight April rise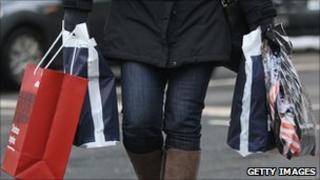 High Street sales rose in April compared with a year ago, but remain "sluggish", according to a poll by the employers' organisation, the CBI.
The survey found that 45% of retailers saw their volume of sales increase in the year to April, while 24% said sales had fallen.
The CBI said the April sales figures were in line with expectations but were considered poor for the time of year.
It added that retailers expected sales to remain weak in May.
The survey found that grocers and clothing retailers were among the strongest performers.
Losers
Yet sales of footwear, durable household goods and big ticket electrical items continued to deteriorate.
"Despite slightly better year-on-year sales growth in April, this survey shows things are far from rosy on the High Street," said Ian McCafferty, chief economic adviser at the CBI.
"For the third month in a row, retailers considered sales to be unseasonably poor, stocks are running quite high, and orders with suppliers are expected to fall."
Analysts noted that retailers may have received a boost from Easter, which was later than the previous year, and the recent sunny weather.
But they warned that the economic recovery could be put at risk if consumers remained less willing to spend in the face of high inflation and non-existent wage growth.
"Given that consumer spending accounts for some 65% of GDP, this is worrying for growth prospects," said Howard Archer, chief economist at IHS Global Insight.
Shop price inflation
Figures released on Tuesday by the British Retail Consortium showed that the annual rate of shop price inflation edged up slightly in April to 2.5%, from 2.4% in March.
The rate of food inflation increased to 4.7% in April from 4.0% in March, while non-food inflation slowed to 1.2% from 1.5%.
"In the face of falling consumer confidence, retailers' efforts to generate sales with Easter discounts were key to holding back prices on non-food goods," said Stephen Robertson, director general of the BRC.
"But the upward pressures on food prices, which eased in March, bit back in April.
"The cost of world commodities, including sugar and wheat, rose even more quickly, inevitably working through to some shop prices," he added.