Saab owner Spyker agrees funding from China's Hawtai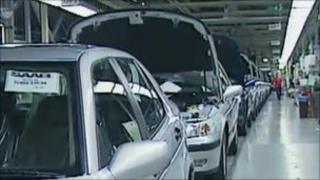 Carmaker Saab is to resume production after its owner, Spyker, struck a strategic partnership with China's Hawtai Motor Group.
Spyker has raised 150m euros ($221m; £134m) from Hawtai in return for a 30% stake and an agreement on sharing manufacturing and technology.
On Monday, Spyker secured 30m euros in short-term funding from the investment fund Gemini.
Cash-strapped Saab stopped production on 6 April pending a search for funds.
Sweden's Saab was rescued in January 2010 by Spyker, which bought it for $400m from General Motors.
But sales did not reach expectations and the company stopped production last month "until further notice" because unpaid suppliers had halted deliveries.
"The partnership with Hawtai allows Saab on the one hand to continue executing its business plan since we secured mid-term funding subject to meeting certain conditions," said Victor Muller, Spyker's chief executive and chairman of Saab Automobile.
"On the other, it allows Saab Automobile to enter the Chinese car market and establish a technology partnership with a strong Chinese manufacturer," he added.
Founded in 2000, Hawtai is a privately-owned automotive company with headquarters in Beijing.
It has the capacity to produce 350,000 vehicles, 300,000 engines and 450,000 automatic transmissions per year.