Next profits boosted by royal wedding and warm weather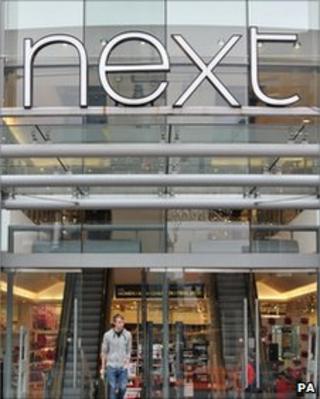 High Street retailer Next has raised its profit forecast for the year after the recent warm weather boosted sales.
For the 13 weeks to the end of April, sales were up 5.2% on a year ago.
The retailer now expects profits of between £535m and £585m for the full-year, a range about £15m ahead of its March estimate.
Next said that as well as the warm weather, much of the rise was also due to spending in anticipation of the royal wedding bank holiday.
But the retailer added: "These factors have encouraged consumers to bring forward summer purchases and we do not expect the current levels of growth to continue into the second quarter."
Price increases
Next forecasts annual sales to be between 1% and 4% higher, compared with its previous guidance range of between a 0.5% fall and a 2.5% rise.
Despite the improved outlook, the company warned that growth in consumer spending was likely to be constrained by "the combined effects of public sector deficit cuts and continued inflation in essential commodities".
It said it expected to raise its prices by about 8% in the second half of the year, which was likely to moderate demand.
But on the plus side, it said there was "every chance" that inflationary pressure on the consumer would ease towards the end of the year.
It added that in the final quarter of last year, trading had been adversely affected by heavy snow and it hoped that the extreme weather would not recur this year.
Cost control
Next shares were the biggest riser on the FTSE 100 in morning trading, up 4.2% at 2,315p, and its news also boosted shares in other UK retailers.
Richard Hunter, head of UK equities at the stockbrokers Hargreaves Lansdown, said the profit upgrade had been positively received by investors.
"The company has made the caveat that the unexpected increase in sales was seasonal and has simply brought forward some summer business, such that it does not expect this growth to be maintained at the same level," he said.
"Nonetheless, the business continues to benefit from close cost control whilst gross margins appear to be holding up."