Keydata inquiry dropped by Serious Fraud Office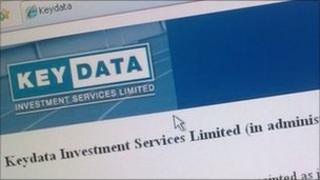 The Serious Fraud Office (SFO) has dropped its investigation into the management of the defunct investment firm Keydata.
The probe was launched after the firm was closed down in 2009 by the Financial Services Authority (FSA).
Thousands of investors who had bought Keydata's policies discovered they had nearly half a billion pounds at risk.
However, the SFO said there was "insufficient evidence" for a prosecution.
The decision was welcomed by Stewart Ford, the former boss of Keydata.
"The decision of the SFO to drop its investigation into Keydata is not surprising and vindicates what Stewart Ford has been saying from the outset of this saga," his spokesman said.
Mr Ford had argued that the collapse of Keydata was the fault of the FSA, which he said had been far too hasty in closing the firm.
Losses
Keydata was closed down because it was deemed by the FSA to be insolvent.
Soon after, it emerged that more than 5,000 investors had lost all their money.
They had bought more than £100m of Keydata policies which were invested in a Luxembourg firm called SLS.
However, it was discovered that the underlying investments held by SLS, second-hand US life insurance policies, had been sold and the proceeds stolen.
Those investors have since been given compensation worth £42m by the Financial Services Compensation Scheme (FSCS).
Since then, more than 19,000 other people have seen £350m put at risk because they bought similar Keydata policies, which were invested in another Luxembourg company called Lifemark.
Now, those investors are also being compensated by the FSCS after it declared the Lifemark policies, which are currently under the control of a Luxembourg administrator, to be worthless.
The SFO said: "After extensive consideration we concluded that we had insufficient evidence to secure a prosecution in this case.
"As a result we decided to focus our efforts on tracing the assets of SLS rather than attempting to prosecute."
Wider impact
The Keydata saga has landed the FSCS with its largest compensation bill yet.
It also helped to undermine the finances of the Norwich & Peterborough building society.
The N&P was one of the biggest sellers of Keydata policies, selling them to more than 3,000 of its own customers.
The society was recently fined £1.4m by the FSA for mis-selling the Keydata polices and is compensating them to the tune of £51m.
The N&P is now in the process of being taken over by the Yorkshire building society after the compensation bill plunged it into the red for the last financial year.