Blacks Leisure reports narrowing of losses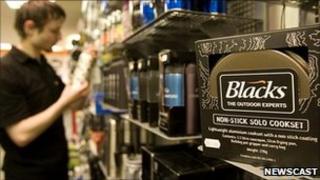 Blacks Leisure has reported a sharp reduction in losses, helped by a restructuring programme involving the closure of under-performing stores.
Blacks reported pre-tax losses of £5.3m for the year to 26 February, compared with losses of £43.6m a year earlier.
But the outdoor goods company, which owns the Blacks and Millets brands, said recent trading had been difficult.
Blacks also named Julia Reynolds, the current boss of lingerie chain Figleaves, as its new chief executive.
She will join the group towards the end of the summer, replacing Neil Gillis, who resigned in February.
'Difficult year'
Blacks sells products ranging from ski jackets and sleeping bags to binoculars and camping furniture.
"This has been another difficult year for both the group and the UK retail sector generally, with consumer confidence still continuing to be fragile," said chairman David Bernstein.
"Despite this, action taken by the group has resulted in the delivery of a much reduced loss for the year."
Total revenue fell 16% from £240.5m to £201.9m, but last year's figure included sales from 88 stores which closed at the end of 2009, Blacks said.
Excluding these stores, revenue fell by 4.2% or £8.8m.
Blacks had been in talks with parties interested in buying all or parts of the business, but in January said it had ended talks with potential suitors.
Since then, shares in the company have lost 64% of their value.
Following Wednesday's announcement, shares in Blacks rose 2.7% to 14.25p.