UK construction sees slower growth in April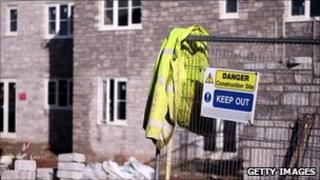 Growth in the UK construction industry slowed sharply in April, weighed down by a contraction in housing activity, data has shown.
The Purchasing Managers' Index (PMI) for construction fell to 56.4 in March to 53.3 in April.
The data was weaker than expected and helped send the pound to a 13-month low against the euro.
The euro rose to 90.28 pence, while the pound also fell against the dollar to trade at $1.6467.
Sterling did later recover against both currencies.
Analysts had expected a more modest slowdown in the index to 55.5.
A figure above 50 indicates growth in the sector.
The data will add to expectations that the Bank of England will maintain interest rates at 0.5% this week, and may not raise them for some time.
Low confidence
Although the Office for National Statistics (ONS) said the UK economy returned to growth in the first quarter, construction remained a particularly weak spot, with the sector shrinking by 4.7%.
But David Noble, chief executive at the Chartered Institute of Purchasing and Supply (CIPS), who collects the PMI data with research group Markit, said the sector was in better shape than the ONS figures suggested.
Last Updated at 23 Feb 2018, 22:20 GMT
*Chart shows local time
| €1 buys | change | % |
| --- | --- | --- |
| 0.8802 | 0.00 | +0.01 |
"Whilst growth in the construction sector has lost its pace compared to the start of the year, the PMI figures indicate that the situation is nowhere near as sluggish as latest ONS figures suggest," he said.
But he added: "Low activity levels in the housing market, tighter government purse strings, rising input prices in fuel and materials, as well as poor cash flow in some cases, are clearly a worry.
"Confidence amongst UK constructors remains at a historically low level as the number of jobs continues to drop."
The Markit/CIPS data showed weaker performances from both the housing and civil engineering subsectors.
'Sluggish start'
Kathleen Brooks from Forex.com said it had been a week of bad economic news for the UK, after Tuesday's manufacturing PMI also showed a slowdown in growth.
She also pointed to meagre money supply growth and mortgage approvals coming in below expectations.
"All of this points to a sluggish start to the second quarter after disappointing growth in Q1, which is likely to keep the doves at the Bank of England in the ascendency," she said.
The next major indicator would be the services PMI, due on Thursday, she added.