What next for commodity prices?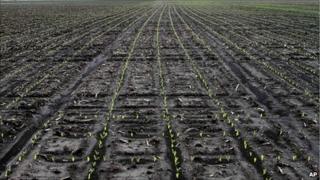 When Goldman Sachs speaks, investors listen.
On 17 April it warned that the commodity boom was due to take a dip.
Oil, cotton, copper, soybeans, platinum had run their course. Their prices would fall victim to their own strength. By becoming so expensive they would strangle demand and choke off the very markets that had brought them to such highs.
The commodity bubble was to have some of its air removed.
In the following 48 hours investors listened, and sold, and prices dropped.
Good timing?
Goldman was not alone, although its words had the greatest impact in the markets.
The International Energy Agency had already said oil prices could not be sustained above $120 a barrel.
The Organisation of Petroleum Exporting Countries (Opec) reduced its estimates for global consumption in 2011, and petrol sales in the US fell 1.3% in January, as Americans either cut back on driving or bought more fuel efficient cars.
Goldman is particularly anxious about the oil price, saying "the near-term downside risk to prices has risen in recent weeks as... prices have climbed to exceptionally high levels last seen in the spring of 2008".
It really did seem like a good moment for investors to take profits.
But the resulting market has not been quite as straightforward as you might think.
The price fall was temporary. The Dow Jones UBS Commodity Index Cash Index hit an all time high during last week.
'Premature' selling
Some commodities are certainly on the way down.
Copper is heading south. It has now fallen in price for two months, thanks to lower growth projections, rising inflation and further rounds of interest rate hikes in Asia, Europe and Latin America.
All that means less demand for the metal in construction and the motor industry.
Cocoa is drifting sideways, now that the Ivory Coast exports are expected to resume in the coming week.
Sugar prices are falling under pressure from huge crops in Brazil, India and Thailand.
But not everyone buys into the argument for getting out of commodities.
Hussein Allidina, the head of commodity research at Morgan Stanley in New York, is one of those who insist selling now would be premature.
Risky oil
And oil investors look as though the word "sell" never even enters their heads.
The price has continued to rally.
Forget about demand - it is supply that counts and it is geo-political risk that keeps everybody worried.
So long as civil unrest threatens the world's biggest oil producers, the markets insist on keeping the risk premium on oil.
There seems little chance at the moment of that changing in the coming months, or possibly years.
Commodity hedging
There is also the currency factor.
With commodities priced in dollars, a weakening greenback prompts investors to use commodities as a hedge.
The markets, increasingly disturbed by the swollen US deficit, can see the dollar going only one way - downwards.
Commodities are the obvious play.
Sensitive softs
Meanwhile, the soft commodity markets are precariously balanced.
The La Nina weather phenomenon - an abnormal cooling of waters in the Pacific Ocean - has produced some of the most extreme weather patterns in a decade.
It was thought to be responsible for the Australian floods this year.
"In wheat production especially, we are running at very low stock levels, particularly after the poor Russian harvest last year," observes Kona Haque, commodity strategist at Macquarie Bank.
"The embargo on wheat exports there has still not been lifted - there is very little cushion, and we still have no idea how the US harvest is going to pan out this year. It is still four months off.
"So prices are very sensitive to bad news."
Scarce resources
And, to be fair to Goldman, its report was not as conclusive as it sounds.
It says that commodities are due to fall for the next two quarters.
But in the long term it is still positive on the upward trend in prices.
The bubble may be deflating slightly, but by no means has it burst.
The world is using up resources at an alarming rate, largely because of the extraordinary growth of the Bric economies - Brazil, Russia, India and China.
The increasing demand for, and scarcity of, those resources is driving the prices upwards.
And demand has increased in unexpected places.
Kona Haque points to the fact that 40% of the corn crop in the US is now earmarked for biofuels.
"With the US as the largest producer in the world, that has a huge impact on prices.
"The administration is in a win-win situation and has no reason to change things. It wants to please the farm lobby and it's doing that with a guaranteed market for its crops. And it wants energy security, and it's doing that too."
The case for rising soft commodity prices has a driving logic.
One might take a view on how Bric economies will develop in the next decade, and how their appetite for industrial materials will increase, level out or fall off.
But it is hard to see demand for food doing anything but rising relentlessly, and prices doing the same.