Dunkin' Donuts owner plans Nasdaq share sale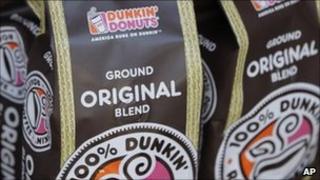 Dunkin' Brands Group, owner of Dunkin' Donuts and Baskin Robbins ice cream, is to sell shares on Nasdaq to raise up to $400m (£240m).
But the regulatory filing did not say how many shares it would offer or how much they would cost.
Dunkin' Brands was part of Allied Domecq until 2005, when the parent company was taken over by Pernod Ricard.
Pernod sold Dunkin' Brands to a group of private equity firms for $2.4bn.
The owners include Bain Capital, Carlyle Group and Thomas H. Lee Partners.
Dunkin' Brands has more than 16,000 outlets in 57 countries.
The company said it sees a "significant opportunity" to expand further into foreign markets and parts of the US outside the north-east where it is currently concentrated.