Philippines raises rates as prices hit one year high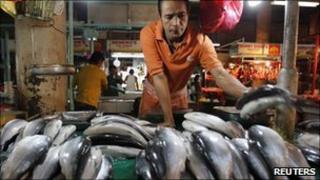 The Philippines central bank has raised the cost of borrowing after consumer prices rose to a one year high.
The benchmark overnight borrowing rate was increased by 0.25%, bringing it to 4.5% - the highest in two years.
Philippines central bank governor, Amando Tetangco, signalled that this could be the start of further policy tightening.
Earlier, the consumer price index rose by 4.5% in April from a year earlier, said the National Statistics Office.
"The Monetary Board remains prepared to take appropriate actions necessary to ensure the achievement of the BSP's [central bank Bangko Sentral ng Pilipinas] price stability objective," said Mr Tetangco after the rate decision.
The Philippines previously raised the cost of borrowing in March this year, becoming the last major Asian country to do so after the global economy emerged from the financial crisis.
Central banks in Asia have generally been trying to rein in rising prices without hurting economic growth.
Price concerns
"Inflation resumed its acceleration in April," said Sherman Chan from HSBC, referring to the 4.5% figure.
"This is hardly a surprise, given the strong inflationary pressures coming from food and oil recently."
These factors have been affecting prices in other Asian countries as well leading to interest rate hikes in recent months.
Thailand increased the cost of borrowing this month for the sixth time since July 2010.
And India has raised rates nine times in 15 months.