San Miguel shares fall steeply after share sale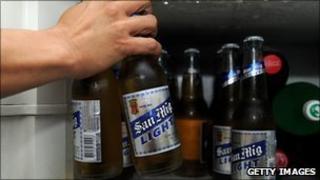 Shares in San Miguel, the biggest beer maker in the Philippines, have plunged by a record amount, after the company raised $1bn (£605m) in a share sale.
San Miguel shares fell as much as 28% on Thursday, the most since 1990, when the stock started trading.
A fund manager in Manila told BBC News the sell-off was in reaction to the company's recent share sale.
San Miguel sold about $600m in convertible bonds and roughly $350m in common shares.
"Investors didn't want to buy the common shares, but they had to in order to get their hands on the bonds. That is why you are seeing the sell-off," the fund manager said.
The convertible bonds - bonds that can be exchanged for shares - offer an annual coupon, or interest rate, of 2%, and a conversion premium of 25% to the share offer price.
Analysts said the convertible bonds offered potential gains, while offering some protection against losses, making them much more attractive than common shares.
San Miguel is in an expansion drive.
It aims to spend more than $4bn in order to double revenues in five years.