Can the US jobs recovery survive?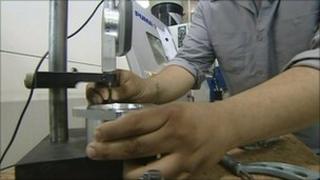 In an industrial corner of Brooklyn, workers at the Linda Tool factory are busy filling orders.
Under their watchful eye, the whirring machines churn out metal parts. Some will eventually end up in aircraft like Boeing's 737.
The company's boss, Mike Di Marino, looks relaxed as he strolls across the shop floor, stopping occasionally to chat to his employees. Business is improving, with sales at pre-recession levels.
"We have an abundance of work right now," says Mr Di Marino with a grin on his face.
Across the US, manufacturers like Linda Tool are growing. In many ways they are leading the country's fragile recovery and this expansion is having a positive effect on the labour market.
They are creating jobs, offsetting a decline in public sector employment. Further evidence of this comes from the most recent survey of purchasing managers in the manufacturing sector. Their employment index just hit a 38-year high.
At Linda Tool, Felix Torres is one of three new hires. He was out of work for eight months before finding employment as a machinist.
"When I heard of this job I was ecstatic. I called my girlfriend and I was like 'hey... I got a response'," he explains as he enjoys a short break before returning to the shop floor.
Under a bright light and with a magnifying glass to his eye, John Gust inspects a finished metal part. For him, getting back to work has meant compromising.
With more than 8 million jobs destroyed since the start of the recession, many have had to accept positions that are not always a perfect fit.
"I'm working as an inspector. Usually I'm running a machine," he says, "but I'm optimistic about moving forward."
Slowing services
Such optimism is harder to find in the service sector where the pace of growth appears to be slowing. For those desperately in search of work this matters because it employs about 80% of the nation's workers.
Jasmine Inez recently showed up at the McDonald's restaurant next to New York's diamond district. She wasn't there for a burger; she was looking for a job.
"It's tough out there now," she says as she waits to speak to a manager.
It is the third branch she has visited that day, trying to take advantage of the super-sized hiring spree the fast food giant is holding in the US.
Franchisees across the country took on 62,000 new employees, adding 9% to their 650,000 strong workforce in just one day.
For Jasmine, who had no experience in catering and who had previously worked in a senior citizens centre, her hope was for a more steady income.
"(I'm) doing odd jobs here and there - nothing stable, so I'm hoping this will be stable now," she explains.
What is surprising is the huge interest in what are essentially low tier jobs. McDonald's received more than a million applications. This says less about the fast food chain and more about how tough the jobs market is for the millions of Americans out of work and for those who are only just entering the labour force.
The jobs being created may not be well-paid ones, but in a country still reeling from the effects of its worst economic crisis in 80 years, it's a start.
But could the recovery in these industries stall?
Higher prices
Back at the Linda Tool factory, Mike Di Marino is keen to show off his pride and joy.
"This is the stairway to heaven," he beckons with a smile as he climbs up a rickety wooden ladder onto the roof.
There, through a hatch, is his green roof.
Among the grasses, flowers and tomato plants you can enjoy a view of the east river and the industrial buildings dotted around this corner of Brooklyn.
This is more than just a place to relax though. The plants that grow here act as insulation for the building in the winter and keep it cool in the summer. In this way, Mr Di Marino has reduced his heating bill, but some costs are beyond his control.
"Aluminium has gone up, alloy steel, stainless steels. The biggest increases I've seen have been stainless steel."
Across America, businesses are anxious that they won't be able to pass on these rising commodity prices to their customers who in many cases are just getting back on their feet.
The fear is that the current recovery may be extinguished and the current jobs growth with it.