Kraft set to raise food prices again this year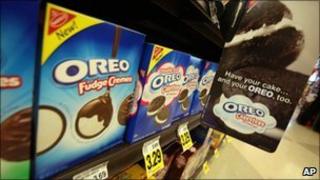 Food giant Kraft Foods, the owner of Cadbury, has warned that it will increase the prices of its products again this year because of higher raw material costs.
The company, which as well as Kraft and Philadelphia cheese products makes Oreo cookies and Dentyne chewing gum, made a first quarter profit of $799m (£488m).
Last year's $1.89bn profit was boosted by a one-off gain from asset sales, including its frozen pizza business.
Kraft shares dipped after the results.
The company, which is the largest food maker in the US, said it had also boosted spending on marketing and product development during the period.
Most of the commodities that Kraft uses to make its products have risen in price, including corn, cocoa and as well as energy costs.
Irene Rosenfeld, Kraft chairman and chief executive, said: "We're off to a stronger-than-anticipated start to the year as our teams around the world execute our growth strategy."