Commodities plunge: Blip or turning point?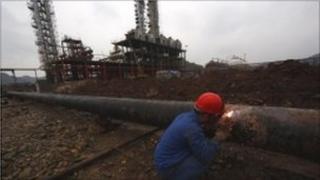 Thursday saw the sharpest fall in oil prices since the last commodities' bubble burst in 2008.
It follows a rout in the silver market, where prices have fallen more than 30% since setting - by a whisker - a new all-time high only last week.
The cost of other raw materials has also tumbled on global markets - everything from copper to cotton is down.
In 2008, the jump in commodity prices was a major factor in pushing many overstretched US mortgage borrowers over the edge into default.
That sparked the global financial meltdown and recession that in turn saw commodity prices collapse.
So does Thursday's plunge mark a decisive turning point in the current bull market? Will prices fully retrace their three-year-long run-up, just as they did in 2008?
Blowing off froth
Most market participants appear to think not.
"I see this as a positive for the market," says Colin O'Shea, head of commodities at asset managers, Hermes.
"This will take some steam out of the commodity rally. I see it as more of a pause, a short-term correction, which should help the consumer globally."
His views are echoed by the sages of Goldman Sachs.
Having predicted a correction was due - admittedly a month prematurely in April - the Wall Street firm's commodity analysts rushed out a report on Friday saying that oil prices were now set to continue their long-term rally.
"It is important to emphasise that even as oil prices are pulling back from their recent highs, we expect them to return to or surpass the recent highs by next year," said its research note.
The consensus view seems to be that the long-term and seemingly inexorable rise in the cost of scarce resources remains intact, thanks to continued strong growth in demand from emerging markets, chief amongst them China.
What has been witnessed over the last few days is some of the speculative froth being blown off, with the silver market easily the frothiest.
"Prices have been very, very firm without necessarily a huge justification," says analyst Nick McGregor of stockbrokers Redmayne Bentley.
"A lot of people had profits to book," he explains, and as such, any number of events might have triggered a sudden exodus from the asset class.
Belt tightening
There are plenty of triggers to point to.
Weak economic data from the US and Germany on Thursday seems to have been the immediate cause, although this was tempered on Friday by a surprisingly strong US jobs report.
While China's rise and rise may dazzle, investors may need reminding that the bulk of demand still comes from the anaemic Western economies.
Rising food, cotton and energy prices have piled more and more pressure on Western consumers, and the resulting belt-tightening is beginning to show up in the data.
And with the end of quantitative easing - the Federal Reserve's monetary crutch for the US economy - looking imminent, many will now be refocusing on just how strong the US recovery really is.
Thursday's market rout went hand-in-hand with a jump in the dollar, perhaps a sign that markets were pricing in the Fed's decision to turn the cash spigot off.
That dollar strength also has a direct downward effect on commodity prices, which are valued in the US currency.
Middle East dominoes
Energy prices have another big factor at play - the Middle East.
Since the Libyan civil unrest first broke out, Brent crude oil had risen from around $80 to over $120 a barrel before the recent sell-off.
Oil supplies had already been stretched tight by rising Asian demand, the thinking went. With Libya knocked out, and the risk of turmoil spreading to the Gulf, shortfalls could be around the corner.
"For a while, all eyes were on the Middle East, ignoring the fact that American consumption data was fairly weak," notes Mr McGregor.
"No more Middle East dominoes have fallen for a while," he adds, meaning some of the fear-factor had fallen away.
The death of Osama bin Laden may also have removed some of what traders like to call the "political risk premium" in the market.
But following the correction, Goldman predicted that rising demand would start to push prices up again, and supplies could soon reach critically tight levels Libyan oil remains off the table.
Bull and China
However, even assuming that Western consumers hold up for now, some may wonder whether it is realistic to assume the commodities pressure cooker can just continue heating up indefinitely.
Surely at some point, something will have to break, just like in 2008?
"In a bull market, there will always be a sense of finding a level where the buyers either stop buying, or are not buying enough to accommodate the rises any more," notes Mr McGregor.
"The price point where consumers change their demand habits is the point where things will change very quickly."
He says the biggest risk factor in the market now is the assumption that, with Western spending growth remaining depressed, China will always be on hand to take up the slack.
But with Beijing worried about inflation, any sign that the government will manage demand more tightly could be the signal for the end of the current bull market.