CBI warns UK economic growth will be "patchy and slow"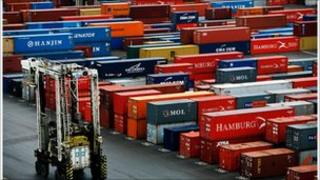 UK economic growth will be "patchy and slow" for the rest of 2011 as high inflation and public spending cuts continue to squeeze household budgets, the CBI has warned.
The employers' group has trimmed its growth forecast for the year to 1.7%, down from 1.8%.
The CBI predicts export growth will outpace the rise in imports both this year and next.
But it also expects interest rates to start rising in the third quarter.
The CBI's revised figure for economic growth brings its estimate into line with the government appointed Office for Budget Responsibility, which expects the economy to grow by 1.7% in 2011.
"The recovery continues to be choppy and lacking in vigour. Expansion in certain sectors is being offset by weaker performance in others," said Ian McCafferty, the CBI's chief economic adviser.
"What remains striking is how little we expect the pace of growth to accelerate in 2012, and that it will be far less robust than we'd normally expect in the second and third years of a recovery," he added.
GDP grew by 0.5% in the first quarter of 2011, after a 0.5% slump in the previous quarter, meaning that the economy has in effect been at a standstill in recent months.
Inflation 'to persist'
The organisation said the rising price of oil and other commodities would drive inflation higher than previously forecast.
It now predicts the consumer prices index (CPI) will average 4.2% in 2011, up from 3.9% in its previous estimate.
The Bank of England's inflation target is 2%.
Last week, the Bank of England decided to keep interest rates at the record low level of 0.5% for the 27th consecutive month.
Some analysts earlier in the year had predicted rates would begin going up from May.
The CBI's predictions for unemployment are slightly more optimistic than before. The number of unemployed is expected to peak at 2.6m in the final quarter of 2011.
Demand cooling?
The business organisation said the outlook for export growth remained one of the "bright spots" within its forecast.
It said it expected to see UK exporters perform well and anticipated growth in exports would outstrip that of imports, resulting in a net positive impact on GDP.
It is fair to say there will be a rebalancing of the economy, believes Vicky Redwood, UK economist at Capital Economics.
But she issued a word of caution: "There are signs of a cooling in overseas demand, because the global recovery seems to be losing momentum."
The CBI said it expected modest growth of 0.6% over each of the three remaining quarters of 2011.