Shares fall on fears Greece needs new bail-out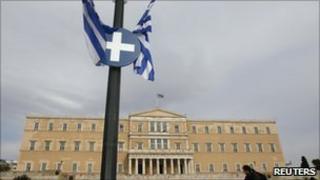 European stock markets have fallen on continuing concerns that Greece may require a new financial bail-out deal.
The falls follow comments on Friday by Jean Claude-Juncker, chairman of the eurozone finance ministers, that Greece may need a "further adjustment plan".
France's Cac 40 index ended Monday down 1.3%, while Germany's Dax fell 1.1%, with bank shares leading the declines.
Meanwhile, credit rating agency Standard & Poor's (S&P) cut Greece's bond grade further into junk status.
S&P has reduced its rating from BB- to B, saying Greece will probably have to negotiate an extension to its dept repayments.
Later in the day, fellow ratings agency Moody's threatened to follow suit, saying it would review its B1 rating for Greece for a possible downgrade.
The agency blamed the increased 2010 deficit, as well as its doubts about whether Greece would meet its austerity targets and whether the Greek economy would recover quickly enough.
Cost of borrowing
In response to S&P's earlier downgrade, Greece's Finance Ministry issued to statement saying the decision was unjustified.
It said: "Credit rating decisions should be based on objective data, policymakers' announcements and realistic assessments of the conditions facing an economy. Not on market rumours and press reports.
"When such decisions are based simply on rumours, their validity is seriously cast in doubt."
Greece's current cost of borrowing in bond markets for two years is about 25% a year.
The level suggests that lenders widely expect Athens to have to renegotiate its private sector debts when its current bail-out loans from the European Union and International Monetary Fund are due to be repaid in 2013.
Greece received a 110bn euro ($136bn; £94bn) bail-out last year.
There are concerns about whether the other two nations that have received European Union (EU) and International Monetary Fund (IMF) bail-outs - the Republic of Ireland and Portugal - are also struggling with the cost of paying back their rescue deals.
However, some analysts say the EU and IMF could simply reduce the interest rates that the three countries have to pay.
The banking stocks that fell in Paris and Frankfurt included Commerzbank, down 3.2%, and BNP Paribas, which was 2.7% lower.