China's trade surplus beats forecasts, as yuan in focus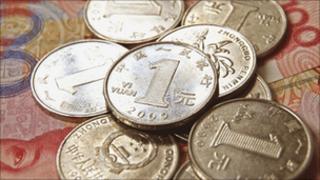 China's trade surplus in April was nearly four times bigger than expected, with exports far exceeding imports.
The trade surplus was $11.4bn (£6.9bn), according to the customs agency, whereas analysts had expected a figure of about $3bn.
In March, China reported an unexpected trade surplus of $140m.
The news comes during US-China talks on trade relations and will put the issue of the Chinese currency in the spotlight.
Many in the US, especially exporters, argue that China's currency is undervalued, making Chinese goods highly competitive in world markets.
China's exports grew 29.9% in April from a year earlier, while import growth slowed to 21.8% year on year.
"Today's trade data shows that Chinese exporters continue to benefit from a supportive exchange rate," said Brian Jackson from Royal Bank of Canada in Hong Kong.
"This number will likely add to the pressure from Washington for Beijing to allow faster currency appreciation, but more importantly should persuade Chinese policy-makers that a stronger yuan can be tolerated by the economy and is warranted as part of their efforts to curb price pressures."
On Monday, US Treasury Secretary Timothy Geithner said China was making progress "towards a more flexible exchange rate".
Rebalancing trade?
China reported a trade deficit of $1.02bn for the first three months of the year.
Some analysts say that government efforts to rebalance the economy by boosting domestic demand could cut down the full-year surplus.
"I think the trade surplus will continue to shrink as a share of the country's [gross domestic product], and China is seeing a more balanced trade structure," said Du Zhengzheng from Bohai securities in Beijing.