Easyjet losses widen as fuel costs rise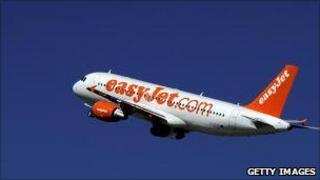 Low-cost airline Easyjet has said its half-year losses have almost doubled because of higher fuel costs and the tough economic environment.
The carrier reported pre-tax losses for the six months to the end of March of £153m ($250m), up from a loss of £79m on a year ago.
Higher fuel costs accounted for £43m of the increase in losses from last year.
Passenger numbers grew 12% to just under 24 million, nearly two-thirds of whom now come from outside the UK.
The six-month period is historically a quieter trading period for airlines.
"The past six months has been tough, with sharply rising fuel costs combined with cautious behaviour by consumers and an adverse impact from taxes on passengers," said Carolyn McCall, Easyjet's chief executive.
"Despite this difficult environment, we have made strong progress over the past six months."
Higher fuel costs
The company said the price of jet fuel had increased by more than 40% during the period, because of the political unrest in North Africa and the Middle East.
It also said it expected high fuel prices to "persist" during the second half of the year.
"Easyjet already operates the most fuel-efficient aircraft, so there's not much more they can do to improve costs here," said Paul Sheridan, head of risk advisory at Ascend Worldwide.
However, he suspects Easyjet will continue to use larger aircraft, such as the A320, to fly more people and drive down its "cost per seat".
"It's a trend we've seen among airlines over recent years, to try and insure themselves against sustained high oil prices," he added.