Emirates sees profits soar on higher passenger numbers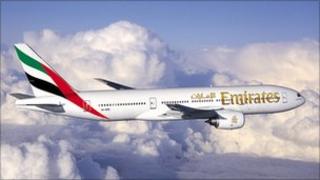 Emirates has reported a 52% rise in annual profits, boosted by a big increase in passenger numbers.
The Dubai-based airline made a net profit of 5.4bn dirhams ($1.5bn; £918m) in the year to 31 March.
Passenger numbers at the airline were up 14.5% to 31.4 million.
Emirates' increased profits came despite the political instability seen across the Middle East since January, and higher oil prices.
"We had a year full of growth and expansion," said chairman and chief executive Sheikh Ahmed bin Saeed Al-Maktoum.
He added that political instability in the Middle East, and strong fuel prices, remained a challenge.
Emirates revealed that the upheaval across the region had caused it to drop plans for a bond sale to fund expansion, as it had made the yield - or interest - it would have had to offer too high.
It said it would wait instead for pricing conditions to improve.
The airline's revenues for the year rose 25% to 54.4bn dirhams.
The carrier currently operates 153 aircraft to 111 destinations in 66 countries.
Nordic cost-cutting
Scandinavian airline SAS also released results on Tuesday, reporting that it had reduced its first quarter loss by 48%.
Helped by cost-cutting work, it trimmed its loss for the first three months of 2011 to 373m kronor ($60m; £37m) from 712m kronor a year earlier.
SAS said it still expected to return to profit in 2011, but that high fuel prices made that aim "considerably more challenging".
Its quarterly revenues fell to 9.2bn kronor from 9.5bn kronor a year ago.