TUI blames losses on Middle East and later Easter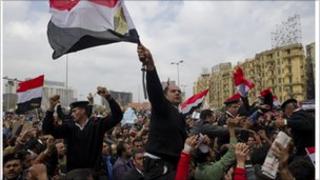 TUI Travel has said it has reduced its losses "despite the impact of the political unrest in North Africa and the later timing of Easter".
The Anglo-German firm made pre-tax losses of £364m ($596m) in the six months ending March, down from £375m it lost a year ago.
TUI calculated the cost of the unrest in North Africa at £29m, while the late Easter added a further £17m loss.
It said UK booking volumes were down 3%, but German demand remained strong.
TUI said UK customers in the "difficult economic environment" were choosing to reduce their holiday durations from the traditional fortnight break to seven or 10 days.
At the same time, the percentage of package holidays, which enabled customers to budget more easily for their holiday, had risen.
"I am pleased to report an improved first-half operating result," said chief executive Peter Long, "particularly given the significant headwinds from political events in Egypt and Tunisia, the weak UK economic environment and the shift of the Easter peak period."
Street protests
Mr Long said he expected the group to meet forecasts for this full year, but remained cautious about the outlook for bookings.
TUI said the solid economic backdrop in Germany had helped keep holiday demand buoyant.
The firm also saw good growth in its Nordic business and an "excellent turnaround" in Canada.
However, the company admitted that trading remained difficult for its French tour operators, which are particularly reliant on North African destinations.
Street protests in the popular holiday destinations of Egypt and Tunisia led to regime changes earlier in the year.
TUI added that the unrest had also affected bookings to Morocco, with the recent bomb explosion in Marrakech further weakening demand.
Shares in TUI Travel ended the trading day in London 1.8% higher.