Williams Formula 1 sees 'solid' financial performance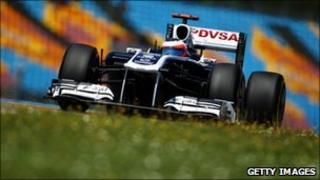 The Williams Formula 1 team has seen profits for 2010 rise by 28% after what it says was a "solid" financial year.
Pre-tax profit was £5.8m after the cost of investing £1.9m in energy firm Williams Hybrid Power and the Williams Technology Centre in Qatar.
Team Principal Sir Frank Williams said 2010 had been one of the toughest years for attracting sponsorship.
As part of the firm's plan "to take the business forward", it listed on the Frankfurt stock exchange in March.
Shares in the firm were virtually unchanged after the announcement.
Supercar
Chairman Adam Parr said its initial public offering and listing had "secured the team's long-term future by providing a sustainable ownership structure".
Part of the new Williams' strategy this spring was to secure a partnership with a leading car manufacturer.
Last week, plans to build a hybrid supercar in conjunction with Jaguar were announced.
Following the stock market launch, Sir Frank Williams has remained majority shareholder and team principal.
"Commercially, 2010 has given Williams a solid foundation from which to grow," he said.
He said Williams was looking to build on that through the joint venture with Jaguar Land Rover, and was seeking further developments in its power and technology firms.
Oil deal
Williams are one of the most successful teams in F1, but they have slipped from the pedestal they occupied when they dominated the sport for much of the 1980s and 1990s.
They have not won a championship since 1997 and last won a grand prix in 2004. In recent years, they have struggled to raise the budget required to compete at the front.
The team has yet to score any points this year.
Williams finished sixth in the constructors' championship in 2010, while at the Brazilian Grand Prix, German driver Nico Hulkenberg took their first pole position for five years.
Hulkenberg has not been retained for 2011 after Williams decided to take on the Venezuelan rookie Pastor Maldonado.
His presence is linked to a multi-year, multi-million pound sponsorship deal with his country's state oil company, Petroleos de Venezuela SA (PDVSA).
"Amidst one of the harshest sponsorship environments for a long time, we signed PDVSA and upgraded and extended existing partners, Randstad and Oris," said Mr Williams.
Their lead driver continues to be Brazilian veteran Rubens Barrichello, a former Ferrari driver who has competed in more grands prix than any other driver in history.