Arcelor Mittal says steel demand and prices both rising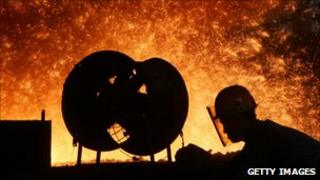 Arcelor Mittal has said global steel prices and demand are continuing to rise as it reported first quarter results that beat market expectations.
The world's largest steelmaker made a $1.07bn (£654m) net profit for the first three months of 2011.
This was 67% higher than $640m a year earlier, although its latest profits were lifted by the $419m sale of its stainless steel business.
Arcelor Mittal's quarterly revenues rose 27% to $22.2bn.
"As anticipated, we have seen a stronger start to the year, with an increase in both shipments and selling prices," said chief executive Lakshmi Mittal.
"This is expected to further improve in the second quarter as the underlying demand recovery continues. We remain confident that 2011 will be a stronger year than 2010."