Angela Merkel 'could back' Draghi for ECB chief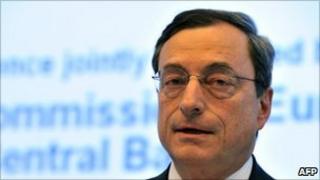 The German chancellor, Angela Merkel, has said Germany " could support" Italy's Mario Draghi as the next head of the European Central Bank (ECB).
It is the first indication that Germany could join France in backing Mr Draghi's bid to take over from Jean-Claude Trichet as head of the bank.
Italy is said to be preparing to propose his candidacy next week.
In comments to a German weekly, Chancellor Angela Merkel said Mr Draghi shared Berlin's economic values.
She told Die Zeit newspaper: "I know Mario Draghi. He is a very interesting and experienced individual.
"Germany could support a candidacy from him for the office of the ECB president."
Mr Draghi, who is 63, is a former economics professor who has taught at Harvard.
He has worked at the World Bank as well as with Goldman Sachs.
He is currently the head of the Financial Stability Board, which is engaged in overhauling the banking system.
He became the favourite for the job after the previous front runner, Germany's Axel Weber, said in February he was leaving as the Bundesbank chief and would not seek the ECB job.
Mr Trichet's eight-year term as the president of the ECB expires at the end of October.
Leaders of the 17-member eurozone are expected to decide on who succeeds him in June.