BA strike: Hopes rise for end to cabin crew dispute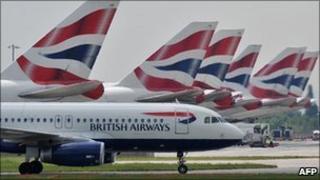 The long-running dispute between British Airways and some of its cabin crew may be close to being resolved, the BBC has learnt.
Union representatives are said to be "content" with what has been negotiated during talks with BA.
An offer will be put to a meeting of members at Heathrow on Thursday. If members endorse it with a show of hands, they will be formally balloted.
There have been 22 days of strikes over the past 18 months.
A spokesman for Bassa, the British Airways cabin crew union which is a branch of the Unite union, confirmed that "talks have now concluded to the satisfaction of both parties".
Talks between the two sides have been going on for weeks. They began in March when cabin crew voted in favour of a further round of industrial action.
The union held back from announcing dates pending negotiations.
The dispute began in November 2009 as a row about staffing levels on some long-haul flights.
But after the strikes, the unions' demands shifted to the reinstatement of some workers sacked during the industrial action and the airline's decision to take away travel perks from striking staff.
The bill for the disruption caused to the airline was estimated to be £150m.
Willie Walsh, who became the focus of many members' anger as BA chief executive, has moved on to head International Airlines Group, the company formed by the merger of BA and the Spanish carrier Iberia.