Rajaratnam verdict marks significant government victory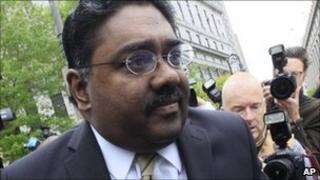 "Like so many others recently, he let greed and corruption cause his undoing." That was the conclusion of the prosecutor behind the trial of hedge fund billionaire Raj Rajaratnam.
The guilty verdict against Rajaratnam, on sweeping insider trading charges, is a significant victory for the US government. Insider trading is a notoriously difficult white collar crime to prosecute.
But the jury in Manhattan, made up of eight women and four men, upheld all 14 counts of securities fraud and conspiracy against the 53-year-old.
In a statement, US District Attorney Preet Bharara is clear: "There are rules and there are laws, and they apply to everyone, no matter who you are or how much money you have."
But the significance of the guilty verdict also depends on whether this case is seen as an isolated instance of law-breaking or part of a wider culture of greed on Wall Street.
After an eight-week trial, the jury found Rajaratnam guilty of coaxing a circle of corrupt insiders into giving him stock tips. The illegal information helped him make more than $63m (£38m), according to prosecutors.
'Dangerous game'
The government case relied on wire-taps of Rajaratnam's telephone conversations. It is a method usually reserved for drug gangs and the mafia.
But the jury was able to hear Rajaratnam in his own words extracting private information from well-placed individuals about elite US companies including Google, Hilton and Goldman Sachs.
Professor John Coffee of Columbia University says this case will have an impact on Wall Street.
"I think a new generation of hedge funds, securities analysts and traders will now come to recognise that insider trading is a very dangerous game," he says. "That sooner or later, if you repeat it enough times, it will get you detected, caught and convicted, and your career ruined."
Rajaratnam faces a heavy penalty. He is expected to be sentenced on 29 July and could be jailed for up to 20 years.
Back in 2009, Forbes listed him as the 559th richest person in the world. At its peak, his investment company, Galleon Group, was one of the top 10 hedge funds in the world, managing $7bn in assets. Now he remains under house detention in Manhattan.
But unlike fellow convicted crook Bernie Madoff, Rajaratnam insists he has done nothing wrong. His chief attorney, John Dowd, said outside the courthouse that he plans to appeal the verdict.
The case also goes beyond Rajaratnam alone. The government has charged 25 individuals in all - 21 of whom have pleaded guilty.
They include former executives at IBM, Intel and collapsed investment bank Bear Stearns. Some co-conspirators testified against Rajaratnam in court.
Rare successes
Bill Currier, a former government prosecutor now at the law firm White & Case, says this will resonate on Wall Street and beyond.
"Anybody who is engaged in this conduct right now is likely turning it right off," he says.
Critics argue prosecutors have done little to bring financial executives to book for the financial crisis, blamed on greed and excessive risk-taking.
And instances of successful insider trading cases are rare.
The only comparable insider trading case took place 25 years ago, the conviction of Ivan Boesky in 1986. He was the man found guilty of brazenly paying for insider information and the inspiration behind the Gordon Gekko character in the Hollywood film "Wall Street".
US Attorney Mr Bharara has talked of "rampant" illegal trading on Wall Street. But he also points out that over the last 18 months, his office has charged 47 people in all with insider trading. Raj Rajaratnam is the 35th to be convicted.
Worryingly, Rajaratnam was operating at the highest levels. One tipster was allegedly a Goldman Sachs director, another worked for IT giant Intel.
Goldman Sachs chief executive Lloyd Blankfein testified in this case that Rajat Gupta, the alleged Goldman leak, had broken the bank's rules on disclosing information.
While the financial crisis did usher in tighter regulations for financial institutions in the form of the Dodd-Frank bill, some worry that Wall Street remains awash with insider dealing, and the Rajaratnam case is simply the most egregious example of it.