Allianz profits hit by earthquake claims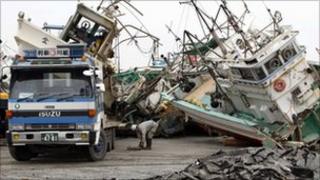 Insurance group Allianz has seen its quarterly profits fall 43% because of damage claims from the earthquake in Japan and other natural disasters.
Net profits at the German company totalled 915m euros ($1.3bn; £795m) in the first three months of 2011, down from 1.6bn euros a year earlier.
Its revenues for the quarter fell 2% to 29.9bn euros.
Allianz said its results were solid "amid a challenging environment and severe natural catastrophe events".
In addition to events in Japan, Allianz has also been hit by claims as a result of the earthquake in Christchurch, New Zealand, and the floods and cyclone in Australia's Queensland state.
Allianz said it had put aside 697m euros to cover its exposure to the recent events in the three countries.