Saab-owner Spyker loses vital Chinese funding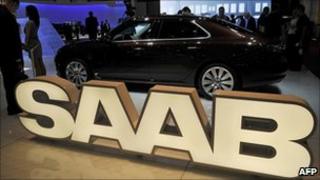 Saab-owner Spyker has announced that its funding deal with China's Hawtai Motor Group has fallen through, throwing its plans to resume production at the Swedish carmaker into doubt.
Spyker said the agreement had been terminated because Hawtai had been unable to secure shareholder approval.
The deal was unveiled just last week, with Hawtai pledging to invest 150m euros ($221m; £134m) into Spyker.
Spyker said it would continue work to secure short and medium-term funding.
It added in its statement that it would continue discussions with Hawtai, but would now talk to other potential Chinese partners as well.
All production stopped at Saab on 6 April, saying suppliers had halted deliveries after they had not been paid.
A Saab spokeswoman said talks were continuing with suppliers to get them to resume deliveries, but that the firm currently had no date by which it hoped to resume production.
Car industry analyst Tom Muller said Saab was now in a tough position.
"It's living by the day, it's not just having money to pay its future obligations, it's what it owes its suppliers already," he said.
Loan talks
Concerns are growing for the future of the staff who work at Saab's Trollhaettan factory.
But Swedish Prime Minister Fredrik Reinfeld said the government would not step in to rescue Saab.
"It is the owners and the management of Saab that must take this forward and find long-term financing," the AFP news agency quoted him as saying.
"We in the government have done all we could to facilitate the process," Mr Reinfeld said.
In exchange for its investment of 150m euros, Hawtai was to take a 30% stake in Spyker and it had also reached an agreement on sharing manufacturing and technology.
Netherlands-based Spyker bought Saab for $74m (£45m) in January 2010 from General Motors, but it has struggled to revive the Swedish company.
Spyker's purchase of Saab was helped by a 400m euro ($570m; £350m) European Investment Bank (EIB) loan facility.
The company said it was now continuing talks with the EIB to access a further 29m euros from these funds.