US retail sales rise on petrol price increases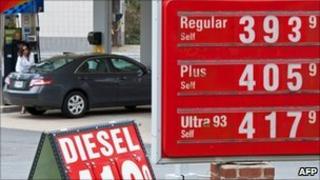 US retail sales rose for the 10th month in a row in April, but most of the increase was due to higher petrol prices, official data has shown.
Sales went up by 0.5% last month, after March's 0.9% rise. Excluding a 2.7% jump in petrol prices, the rise in retail sales in April was only 0.2%.
Petrol prices have risen strongly this year in the US, with some analysts concerned it will mean consumers have less money for other purchases.
US wholesale prices also increased.
The rise was again put down to the higher cost of petrol, and other energy bills.
The Labor Department said the Producer Price Index, which measures the price US companies have to pay for raw materials and factory goods, had risen 0.8% in April. This was a slight increase on the 0.7% rise in March.
The latest retail sales figures from the Commerce Department also showed that clothing and car sales rose last month.
"The rise in retail sales were basically related to higher gasoline prices," said Eugenio Aleman, a senior economist at Wells Fargo Securities in Charlotte, North Carolina.
"Overall the report was good because it was positive, but the economy and consumers are still having trouble."