China lifts bank reserve ratios again to cool inflation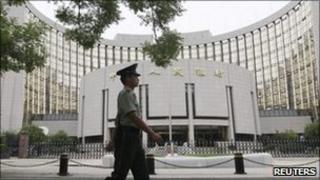 China has increased its bank reserve requirements for the fifth time this year as it continues in its attempts to cool inflation.
Thursday's move raised the reserve requirement ratio to a record 21% for China's biggest banks.
It comes a day after data showed China's factory output growth in April eased more than expected, suggesting that measures to slow the economy are starting to take effect.
Inflation in April stood at 5.3%.
Although this marked a slight fall from the 5.4% hit in March, it is still well above the 4% target the central bank has set for the year.
By insisting banks hold more cash, the central bank hopes to restrict lending, which in turn will reduce spending.