Manchester United's commercial revenues up 30%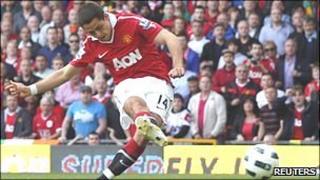 Manchester United has seen a strong increase in commercial revenues, according to new financial figures.
Commercial revenue rose to £75.3m in the first nine months of the year, up 30% on a the same period a year ago.
But matchday and media income fell £5m, which the club blamed on fewer home games in the period and pegged entry prices for the Crawley Town FA Cup tie.
The Old Trafford club also said it had bought back £5.5m in bonds, taking the overall amount purchased to £29.5m.
Turnover in the quarter was up slightly to £75.2m from £74.6m a year earlier, while turnover in the nine months to March was £231.7m, up from £219.3m.
Manchester United only need one point from two remaining fixtures for the club to secure its 19th league title, and will also appear in the Champions League final at Wembley on 28 May.
The club said its balance sheet was strong, with £113m in cash and £765.1m of other assets.
Financial figures released this spring showed Manchester United's parent company made a loss of £108.9m in 2009-10.