UK construction sector data revised up by ONS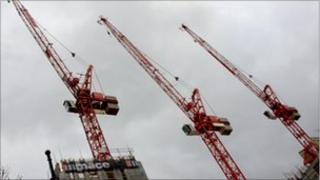 The UK construction industry's downturn in the first three months of 2011 was not as bad as first thought, according to official figures.
Revised data from the Office for National Statistics show that output in the sector was down 4% in the quarter, rather than the 4.7% first estimated.
The industry recently questioned if the way the ONS collects its data painted a too gloomy view of the sector.
The Construction Products Association wants a revamp of the methodology.
Earlier this month, CPA chief executive Michael Ankers wrote to the Chancellor of the Exchequer warning that inaccurate data had implications for policy making.
The revised figure means that overall GDP growth was just under 0.1 percentage points better than the 0.5% growth rate originally stated. Revised GDP data will be released later this month.
Chris Williamson, chief economist at research group Markit, says the official figures are at odds with most other surveys of the industry.
He said that while housing and civil engineering work were depressed, commercial activity is holding up.
An ONS spokesman said it would be wrong to link the revision to the recent concerns. "All our data is subject to revision," he said.
In a letter to the Financial Times last week, the ONS said: "The new surveys introduced last year were a major improvement on what went before.
"We will consider the need to make adjustments and improvements to the methodology, should this prove necessary."