Schalke 04 sees profits rise but debt worries remain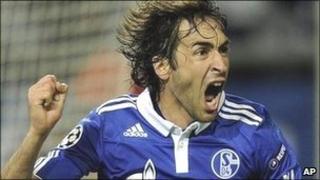 Champions League semi-finalist Schalke 04 has reported a profit of 1.2m euros ($1.7m; £1.5m) for 2010, after a 16.8m euros loss in 2009.
Turnover increased from 119m euros in 2009 to a record 169m, primarily due to its Champions League participation.
However, the German club's debts have risen from 20m euros to 155m euros after it strengthened its squad.
"We have invested a lot in the team in order to be competitive in the Champions League," it said.
As a result "personnel expenses", including players, increased from 63.3m euros in 2009 to 78.1m euros in 2010.
In April, coach Felix Magath was sacked amidst claims he had hit the Gelsenkirchen-based club's finances by backing expensive transfers and salaries for players.
The club knocked out Champions League holders Inter Milan in a shock run to the last four of the Champions League this season, where they lost to Manchester United.
"The resulting success on the pitch generated income from the Champions League, the majority of which, however, will not find its way onto the balance sheet until 2011," the club said.
Schalke currently sit in mid-table of the Bundesliga.