UK small manufacturers enjoying US boost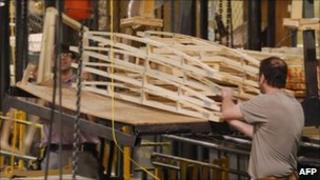 Two years ago Ken Wickham was thinking of closing down his small manufacturing company in the face of the global recession.
"Trade was so quiet, the phone was ringing just once every two weeks," he says.
"Things were very difficult. We survived in the end because we had a very good client base, but a lot of other companies I know went to the wall."
Mr Wickham is owner of Wickham Engineering, which has been in business for more than 25 years.
Based in Southend, Essex, it makes highly specialised milling machines, some the size of houses.
Supplying food, chemical and paint companies around the world, exports account for 75% of its business, with the US being its main overseas market.
Fast-forward to today, and Mr Wickham says export demand is now very strong again.
"The orders are all coming from the US," he says. "About 18 months ago we started to get more interest from America, which has really increased over the past six months.
"We aren't back to pre-global-recession levels of orders from the US, but things have certainly picked up again."
Demand 'unabated'
Mr Wickham's experience appears to have been replicated at small manufacturers across the UK.
A recent study by the CBI business organisation said small manufacturers had seen demand for their goods rise at its fastest rate for 16 years during the first quarter of 2011. The majority of this increase had come from exports.
This was backed up by a separate report from manufacturing organisation EEF. It said UK manufacturers of all sizes were "taking advantage of export-led demand, which shows no signs of abating".
And official figures from the Office for National Statistics showed that the wider manufacturing sector continues to be strong, with output expanding by 1.1% from January to March, the same as during the last three months of 2010.
Stimulus boost
Another small manufacturer that says it has seen a big increase in exports is Oxford Optronix, which specialises in hi-tech medical-testing equipment.
Like Wickham Engineering, it says demand is being led by exports, and again, specifically from the US.
"We saw a massive upswing in demand and orders from the US during the second half of last year, and things have continued to look pretty good," says sales director Dr Michael Rau.
"We have increased our presence in emerging markets, such as China and India, which is very interesting, but our single biggest market has always been the US."
A look at the most recent US economic data shows why British small manufacturers have been enjoying increased orders.
While US unemployment remains stubbornly high - 9% in April - the US economy is continuing to grow.
Buoyed by the global economy gathering pace, and the continuing boost from President Obama's $800bn (£494bn) stimulus spending, 2011 has so far seen US manufacturing output increasing at its fastest rate in seven years, while US exports have risen to an all time high.
Dr Rau says: "It may very well be that we have been benefiting from the Obama stimulus spending, as some of that money has been injected into science.
"And the weakness of the pound in recent years has also done wonders for our competitive position."
'Pessimistic'
But while UK small manufacturers are enjoying higher demand from American companies, how is trade in the US for those small UK manufacturers who target American shoppers?
The economic data coming out of the US suggests they are still finding trade a lot harder to come by, as consumer spending - while continuing to rise - remains weak in the face of higher energy bills.
James Stewart, who owns Northern Ireland-based clock-maker James Stewart & Sons, says this is the case for his company.
Manufacturing grandfather clocks that can cost as much as £13,000, the Omagh company's main overseas market for luxury products is the US.
"The US has picked up marginally, but it is nothing to get excited about," says Mr Stewart.
"Talking to our sales team over there, they remain pessimistic. Trade will pick up again, but it is going to take time.
"Our problem is that we make a luxury product, so if people are nervous about the economy, we are going to be the last thing on their shopping list, whether in the US, or back in the UK and Republic of Ireland."