Canada's TMX receives fresh bid to rival LSE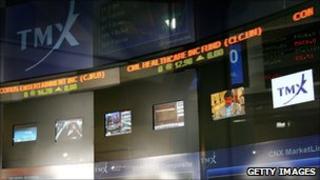 Canada's TMX Group, operator of the Toronto Stock Exchange, has received a domestic takeover bid to rival the group's proposed merger with the London Stock Exchange (LSE).
The bid came from from a group of Canadian banks and pension funds.
TMX said it would consider the bid while still seeking shareholder and regulatory approval for the LSE deal.
Recent months have seen a spate of merger talks between the world's leading stock exchanges.
In March, the US exchanges Nasdaq and ICE mounted a bid for NYSE Euronext, topping a previous offer from Deutsche Boerse, while last month Australia indicated that it would block a bid from the Singapore stock exchange for ASX, the firm that owns the Australian Stock Exchange.
'Exciting offer'
The fresh bid for TMX was made by a number of Canadian financial institutions operating under the name Maple Group Acquisition Corporation.
"Now Canadians have a Canadian alternative to look at that points to the strength of our financial services sector," said Ontario Finance Minister Dwight Duncan.
He said the government would look at the bid, but while it was too early to say whether he personally preferred Maple's offer to that of the LSE, he was "excited" a Canadian bid had been made.
Any deal for TMX must gain government approval.
At the end of last year, the government blocked an offer for fertiliser group Potash Corporation from Anglo-Australian mining giant BHP Billiton on the basis that it was not in the Canadian national interest.