Yahoo and Alibaba say they will negotiate after spat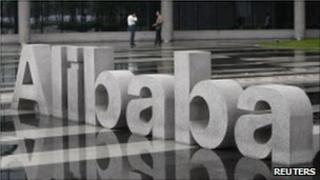 Yahoo and Chinese internet company Alibaba have said they are trying to resolve their disagreement, presenting a united front after a public spat.
In a joint statement, the two companies said that they were "engaged in and committed to productive negotiations", but provided no other details.
On Tuesday, Yahoo said Alibaba had spun off its online payment service Alipay without informing it, sending its shares down sharply.
Yahoo owns a 43% stake in Alibaba.
Shares in Yahoo ended at $16.55 on Friday, down 11% from Tuesday's closing price.
Yahoo said Alipay was transferred to a Chinese company, owned mostly by Alibaba chief executive Jack Ma, in August 2010.
Yahoo said it only found out about it in March this year.
However, Alibaba insists the transaction was talked about at a 2009 board meeting.
On Saturday, Alibaba had issued a statement saying the move was "legal and 100% transparent".