India's inflation sees slight slowdown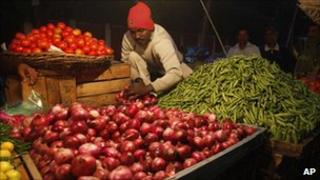 India's inflation rate eased in April, but was still higher than expected as fuel and food prices remained high.
The main wholesale price index was up 8.66% in April from a year ago, but was less than the 9.04% rise seen in March.
Food prices in India remain extremely high. The cost of fruit has gone up by a third in the past year.
The figures comes as the government is expected to announce an increase in state-controlled prices of diesel and cooking gas.
Supporters of the main opposition party, the BJP, blocked roads and rail tracks in protests against a rise in state fuel prices.
But the Congress Party-led ruling coalition does not face new tests at the polls until early next year after last week's state elections, giving it the opportunity to raise fuel costs.
And state-run refiners raised petrol prices by 5 rupees (11 cents, 6 pence) a litre from Sunday, almost 9%, a record increase that is likely to fuel inflation in Asia's third-largest economy.
The Reserve Bank of India has raised interest rates nine times since March 2010 and economists expect it to do so again in June and July.