Nasdaq and ICE drop $11.3bn bid for NYSE Euronext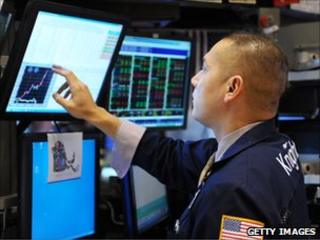 US stock exchanges Nasdaq and ICE are dropping their $11.3bn (£6.9bn, 7.8bn euros) bid for rival NYSE Euronext.
The two exchanges concluded the proposed takeover would not be approved by US regulators.
NYSE Euronext had already rejected the unsolicited bid for the same reasons last month.
It said it would concentrate instead on plans to merge with German exchange Deutsche Boerse in a deal worth $10.2bn.
Nasdaq and ICE, an Atlanta-based futures specialist, said they had spoken with the anti-trust division of the Department of Justice.
"While we are surprised and disappointed in the anti-trust division's conclusion, some of the uncertainty, at least as it relates to our joint proposal, has been resolved," said Nasdaq chief executive Bob Greifeld.
Under the Nasdaq-ICE bid, ICE would have taken over NYSE's derivatives business, while Nasdaq would have taken the stock exchanges and options businesses - thus combining two of the largest US stock exchanges.
The Deutsche Boerse bid itself is also likely to raise regulation issues anyway - a deal would create a massive presence in certain European financial products.
There is also some political opposition from those against the idea of a foreign company taking over a Wall Street brand.