Saab agrees deal with China's Pang Da Automobile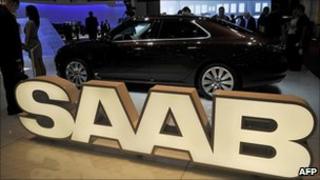 Saab has agreed a distribution deal with a Chinese firm, just days after a deal with another firm had collapsed.
Pang Da Automobile - described by Saab as the biggest publicly-listed car distributor in the country - will pay 65m euros (£57m, $92m) for a 24% stake in the troubled Swedish carmaker.
The new deal also provides for possible future manufacturing in China.
Last week, a 150m euro deal with Hawtai fell through after the Chinese firm failed to get shareholder approval.
The new deal is also subject to all necessary approvals - including from shareholders and regulatory authorities.
Rescue deal
Under the terms of a memorandum of understanding between the two firms and Saab's Dutch parent firm Spyker, Pang Da will pay an additional 30m euros upfront for deliveries of Saab cars, with another 15m euros to follow in 30 days.
The transaction "will secure Saab Automobile's medium term funding", said Spyker in a statement.
If consummated, it would mean that production could recommence at the firm's Swedish plant, saving it from probable closure.
The agreement would create a joint venture company to manage distribution of Saab cars in China, and also envisions a second joint venture to produce own-brand cars in the country.
It will give the Chinese firm a board member at either Saab or Spyker.
Pang Da - which was floated on the Shanghai stock exchange only three weeks ago - has over 1,100 dealerships in China, and already distributes many other foreign brand cars such as Audi, Volkswagen, Mazda and Honda.
Spyker's share price had risen 15% by mid-afternoon trading on Monday on the Amsterdam stock exchange.