Virgin Atlantic pilots to ballot for strike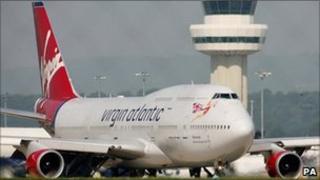 Virgin Atlantic pilots are to be balloted for their first strike after year-long pay talks broke down.
The ballot will take four weeks to carry out, starting on 24 May.
"Virgin's pilots feel very angry and disappointed at the way they are being treated," said Jim McAuslan, general secretary of the pilots' union Balpa.
Virgin Atlantic said in a statement that it had made a "fair, affordable and sustainable offer that is in line with the rest of the industry".
The company added that it remained open to dialogue.
Balpa, which represents most of Virgin's 750 pilots, says its members have accepted a pay freeze since 2008 to help the company during the recession.
"During the tough years, pilots have made sacrifices to help the business on the basis that fair pay would return, but that hasn't proved to be the case," added Mr McAuslan.
He said his members had been offered rises of 4% in 2012 and 3% in 2013, which he said fell short of the current 5% inflation rate.
However, the Bank of England expects inflation to fall sharply next year, and some members of its monetary policy committee have called for interest rate rises to head off the risk of the high inflation feeding into higher wage settlements.
According to union boss Mr McAuslan, the Virgin pilots deserved a bigger pay rise to make up for the years of no increases.
"The company is asking us to effectively sign up to five years of cuts in pay," he said.