Hewlett-Packard cuts revenue forecast for 2011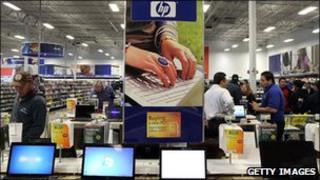 Hewlett-Packard (HP) has cut its full-year revenue forecast, due to the impact of the Japan earthquake and continuing weak sales of consumer PCs.
The computer giant said it expects revenues for the 2011 financial year to be between $129bn (£79bn) and $130bn.
The firm also reported net profits of $2.3bn for the three months to the end of April, 5% higher than a year ago. Revenue was up 3% at $31.6bn.
HP released its results a day early after an internal memo was leaked.
Chief executive Leo Apotheker warned of "another tough quarter" and told staff to "watch every penny and minimise all hiring" in a note leaked to Bloomberg.
Mr Apotheker, who has been in charge since September, was quoted as saying the company's headcount plans were "unaffordable, given the pressures on our business".
The company's shares closed down more than 7% on the New York Stock Exchange.
'Solid quarter'
Last Updated at 20 Nov 2017, 20:58 GMT
*Chart shows local time
price
change
%
22.12

+

+0.37

+

+1.70
The results confirmed Mr Apotheker's comments.
"HP's revised outlook reflects an expected near-term impact from the Japan earthquake and related events, continued softness in sales of consumer PCs, and reduced operating profit expectations for services," the company said.
Despite the downgraded revenue forecast, Mr Apotheker said HP had "delivered a solid quarter" in the three months to the end of April.
Revenue growth was driven by businesses continuing to spend on technology, the firm said. However, performance of consumer products was "uneven".
Revenue in the US rose by 2% to $13.8bn and by 10% to $6.1bn in Asia Pacific, but fell 1% to $11.7bn in Europe, the Middle East and Africa.
"The quarter was good, July guidance and fiscal year 2011 guidance are dismal. They are basically taking $1bn to $1.5bn out of the revenue forecast and lowered earnings per share expectations as well," said Brian Marshall at Gleacher & Co.