DCLG survey: UK house prices falling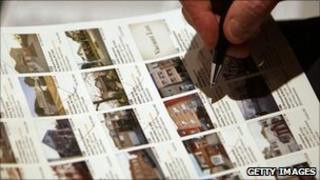 UK house prices fell slightly in the first three months of the year, according to the Communities and Local Government department (DCLG).
Its survey shows prices over the first three months of the year prices were 0.5% down on the previous three months.
However, during March alone, prices rose by 1.2%, leaving them 0.9% higher than a year ago.
Prices in London have grown by 5.6% in the past year, far outstripping other areas of the UK.
Nicholas Ayre, director of UK buying agent Home Fusion, said: "The property market, very clearly, has fragmented into a series of micro-markets.
"It could be many years before we see the return of a property market that trends at a national level."
Regional differences
The DCLG survey is based on a 60% sample of all completed house purchases involving a mortgage.
It shows that prices have risen in the past year in the south-east and east of England, as well as the East Midlands.
But they have dropped elsewhere, especially in Northern Ireland, where they have fallen by nearly 14% in the past 12 months.
"The DCLG data showing a marked rebound in house prices in March do not materially alter our view that house prices will lose ground over the coming months," said Howard Archer of IHS Global Insight.
"House prices are notoriously volatile from month to month and from survey to survey.
"Furthermore, both the Halifax (by 1.4% month-on-month) and the Nationwide (by 0.2% month-on-month) reported falls in house prices in April," he added.
Property ladder
The falling price of homes should assist potential first-time buyers.
However, in a report published on Tuesday, the Council of Mortgage Lenders (CML) said that first-time buyers were one of the groups who had not been "well served" by current conditions in the housing market.
The lenders' group said that there was no single solution to the issue.
"Although there have been a number of initiatives to help first-time buyers, the relatively small scale on which they operate - combined with a severe shortage of funding, and a risk-averse market environment - means that we do not expect there to be a significant increase in first-time buyer activity in 2011 or 2012," the CML said.
"The reality for first-time buyers is that, although there is widespread sympathy for their plight, they are only one of a number of different types of consumer who are experiencing difficulties in challenging housing and mortgage market conditions."
Other groups facing difficulties included those in negative equity after buying their first home at the height of the boom, and those whose mortgage deals were no longer available on the market.