Japan carmakers may lose out in US, says AT Kearney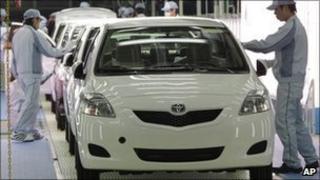 Japan's carmakers are likely to lose out to competitors in the resurgent US market this year, according to a new study.
Consultants AT Kearney said almost 200,000 US customers looking to buy new cars in 2011 are 'up for grabs'.
Hampered by a shortage of car parts in the aftermath of the earthquake, firms such as Toyota, Honda and Nissan could see significant lost sales.
US and South Korean carmakers stand to gain the most from those losses.
Many car manufacturers have been dealing with parts shortages due to damage caused by the earthquake and tsunami that hit Japan on 11 March.
But if Japan's car plants do not resume full production until the fourth quarter, then the number of new US vehicle sales lost by its carmakers could rise even higher, the report warns.
"Given what we know about production downtime, in 2011 we see 328,000 US customers of the affected brands are up for grabs, and more if the time to wait for a particular brand begins to extend," says AT Kearney's Dan Cheng.
The 328,000 figure is equivalent to about 2.5% of total US market share.
Mr Cheng also said new vehicle sales in America will grow by almost 14% to 13.2 million units this year.
Total sales in 2013 are expected to hit 16 million, not far off from an annual average of 17 million new vehicle sales in the year before the global financial crisis.
Some analysts believe resurgent sales in the US and continued strength in Asian markets may result in Detroit's General Motors reclaiming the top spot as the world's bestselling carmaker from Toyota.