Tencent, Expedia buy stake in online travel firm Elong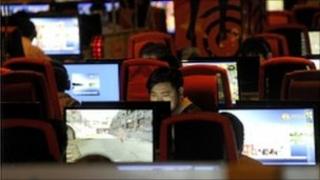 Shares in Elong, China's second-biggest online travel firm jumped after Tencent and Expedia bought stakes, as China online travel market heats up.
Tencent, China's biggest online company, bought a 16% stake in Elong for $84.4m (£52m), according to a statement.
Expedia also increased its stake in the firm.
In New York, Elong's shares rose 75% to $29.60 before closing at $26.58.
Expedia paid $41.2m to increase its stake in Elong by 8% to 56%, making it the biggest shareholder in the company.
Mutual benefit
"China is a key region for us from a strategic perspective," Expedia president and chief executive Dara Khosrowshahi said in the statement.
"Aligning ourselves with the online industry leader in China, and increasing our own investment in Elong, strengthens our position in this critical market," he added.
For Tencent, which has 674 million users, this is its first foray into the online travel market.
"Given Tencent's user base and its reach across multiple platforms, including portal, mobile, instant messaging and social networking, we believe consumers throughout China will benefit from this partnership," said Elong Chief executive Cui Guangfu.
Competitive market
Travel is on the rise in China, which makes online travel firms attractive investments.
The top online travel company Ctrip.com said on Monday its profits jumped 23% between January and March, because of increased revenues from hotel and flight reservations.
The Shanghai based company reported a net income of $234.9m yuan ($35.8m; £22m)
That compares with a net income of 190.4m yuan over the same three months last year.