Portugal taps market for short-term funds at a price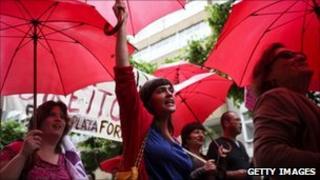 Portugal has successfully raised 1bn euros ($1.4bn; £880m) in cash, in a sign that financial markets remain open to the heavily indebted government.
Demand for the treasury bills was more than double the amount needed.
But Portugal had to pay an interest rate of 4.66% for the two-month loan, slightly higher than before.
The money will tide the country over until the 78bn euro rescue loans are available from the European Union and International Monetary Fund.
The increased cost of borrowing may have reflected expectations of an imminent interest rate rise by the European Central Bank (ECB), rather than heightened concerns about Portugal's ability to repay over such a short time frame.
Rising unemployment
ECB board member Bini Smaghi said that the ECB would not postpone rate rises to help out debt-laden countries.
Portugal will pay a rate of 5.7% for the rescue package. The bail-out means it will not need to raise money from the financial markets for two years.
The country's current two-year cost of borrowing on bond markets is more than 10% a year, indicating that markets still believe there is a substantial risk Portugal may default when its bail-out loans come up for repayment in 2013.
However, that figure has fallen from a high of 11.75% over the last two weeks, as the terms of its bail-out have been hammered out.
The poor state of the country's economy is seen as posing the biggest risk to its ability to repay its debts - something likely to be worsened by the severe austerity measures demanded by Portugal's EU partners.
The European Commission predicts that Portugal's economy will shrink by 4% over the next two years, while its debt burden will increase to 107% of economic output next year.
Meanwhile, it was revealed that the country's unemployment rate jumped to a higher-than-expected 12.4% in April - its highest level in 30 years.