US economy is moderately improving, says Federal Reserve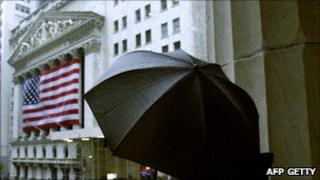 The US Federal Reserve has said the US economy is recovering moderately, newly released minutes of its April policy committee meeting show.
The central bank said this was despite an unexpected slowing of growth in the first quarter.
It said large increases in food and energy prices had pushed up inflation, but it expected the cost of living to remain stable in the long-term.
The Fed's policy makers also discussed "normalising" monetary policy.
Committee members agreed to keep interest rates unchanged at between zero and 0.25%.
They also voted to continue with the bank's $600bn (£375bn) Treasury bond-purchase plan until the end of June.
The programme is the Fed's second round of "quantitative easing", dubbed QE2.
Although they discussed raising interest rates, they stopped short of making any decisions and said exceptionally low interest rate levels would be warranted "for an extended period".
Some members of the board said the recent rise in inflation had been fuelled by significant energy price rises and other commodity prices.
While the minutes also showed that one committee member suggested that excess liquidity (money) in the system could be creating speculation in commodity markets, pushing up commodity prices.
The Federal Reserve mentioned the earthquake in Japan in March, and said it expected GDP to be affected in the near term.
Figures released earlier this week showed that US manufacturing fell for the first time in 10 months in April, primarily due to a shortage of parts as a result of the Japanese disaster.
The central bank said conditions in the labour market were continuing to improve gradually.
But activity in the housing market remained weak, with demand for housing "depressed".